Clickable prototype
Overview

Klaver
is a new bank that wants to break through the frontiers of online banking. Unlike the traditional, rigid banks of the past, this is the bank for social savvy and tech savvy entrepreneurs.
Klaver is the german word for clover – this is a bank that will bring good luck to all of your endeavours. It's a bank that works to help you invest your money in the right places, to make smart decisions about your savings and to achieve big milestones.
Problem

The client wants a modern look, but is also keen to be perceived as a well established, professional and trustworthy entity. In addition, the client recognizes that it is difficult to keep track of the products and services that we have subscribed to every month. Klaver needs to help users manage their subscriptions.
Solution

I built a functional prototype to test with potential users, which tested well. My approach to the design centered around a look that was both modern and mature. This will help Klaver avoid looking like a typical startup. With the subscription management feature, the user is in total control of what kind of products and services he continues to use. Users are able to pay and cancel any subscriptions directly through the app.
Process

Once I am aware of key issues and goals, I gather relevant information pertaining to the ideal solution. This includes exploring consumer behavior and collecting observational data. Next, I create a sketch based on insights from the research. I then proceed to prototyping, testing and refining.
Customer Journey

The ideal user would begin at the awareness phase, and make their way through installation of the app and usage. Here, we outline goals, define potential problems and get a sense of the users feelings along the process.
Personas
User Flow
I mapped out the core features of the app. The map also illustrates the process of sending money.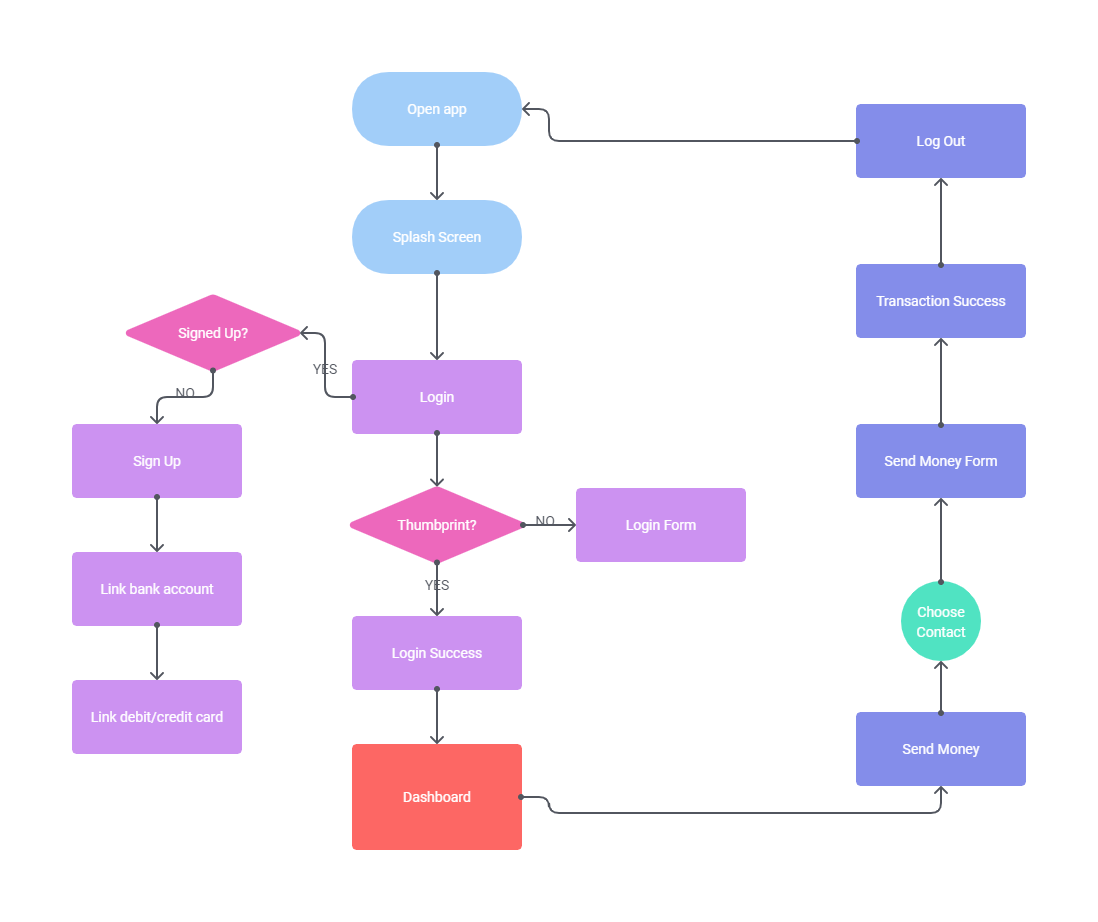 UI Style Guide

The key to visual design for this project is to combine contemporary with traditional. I chose variations of the color green as it symbolizes growth and safety. Klaver is progressive, yet rooted in the fundamentals of traditional banking.
Wireframes
Conclusion

The research conducted for this project proved to be invaluable. I gained insights from looking closely at how people approach banking, and the solutions created by financial institutions to meet their needs. With Klaver, users are able to enjoy a clean, modern app which caters to their flexible, and sometimes unconventional financial goals.